Ava's playroom is nearly complete! Yesterday, I shared with you the transformation of a table I added to her playroom. Today, I am excited to show you the wall transformation, too! As I mentioned yesterday, her playroom is located in what should be a dining room – but makes an excellent and visible playroom as it is visible in the kitchen and den. It's a fairly wide-open space with ceilings as tall as our two-story house. While the table was an amazing addition, the walls were really bare and very boring. I was struggling with what to put on such a large, tall wall.
I totally forgot to take a before picture, but here is one I snagged from my Instagram stories: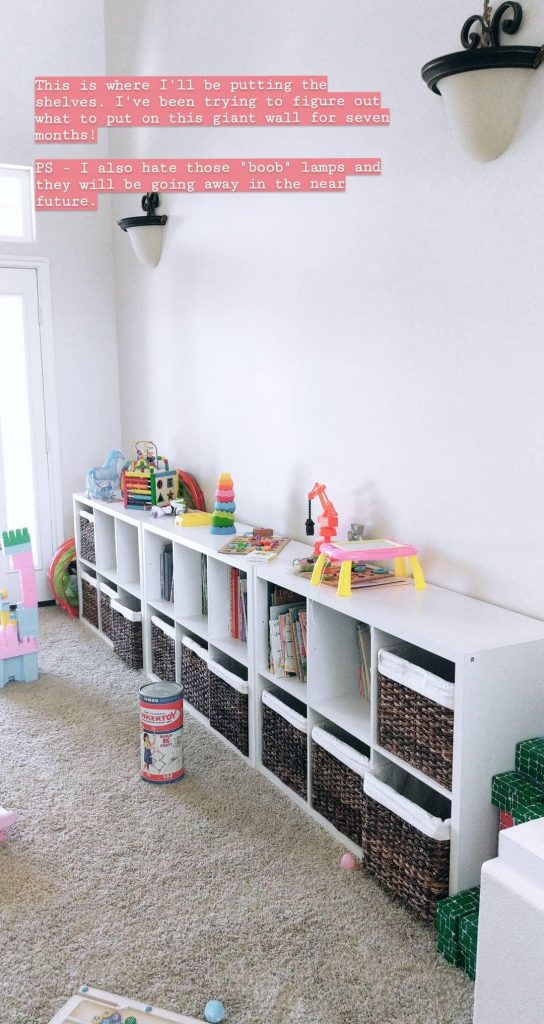 Also, I still absolutely hate the "boob" lamps and we are ordering some new ones on Amazon very soon!
To decorate this wall, I started searching Pinterest and found and amazing DIY project and decor inspiration from Thrifty Decor Chick. She has an amazing blog and I encourage you to check her out! From this blog,  I was inspired to create two large, hanging shelves and decorate it with a variety of cute decor. I'm not going to walk you through how to do these shelves but I will be linking her tutorial below:
How To Build DIY Wood PIcture Ledges
Once we got the shelves up, it already looked so much better and blended in with our current playroom furniture! Take a peek: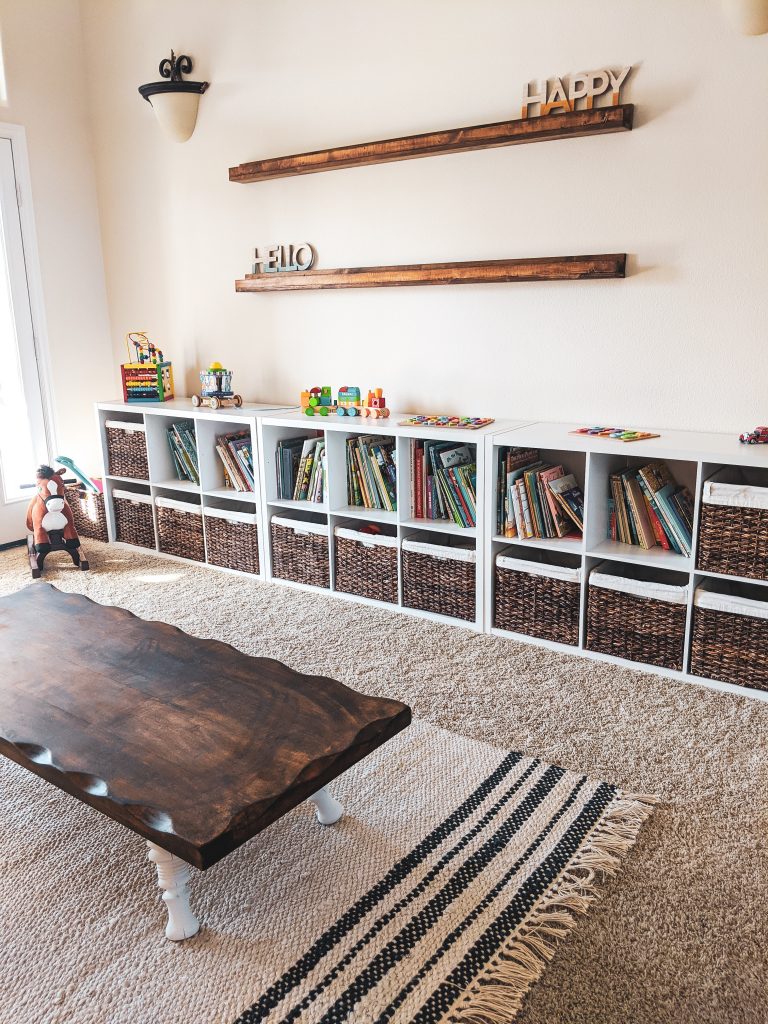 For the table and the shelves, I used Varathane's Dark Walnut Wood stain that you can find on Amazon:
Varathane's Dark Walnut Wood Stain ($14.18) – Amazon
After I added the shelves to the wall, I went to Michael's and Target and found some super cute decor for the shelves because they were having a HUGE sale! I brought these items home and absolutely love how the wall turned out: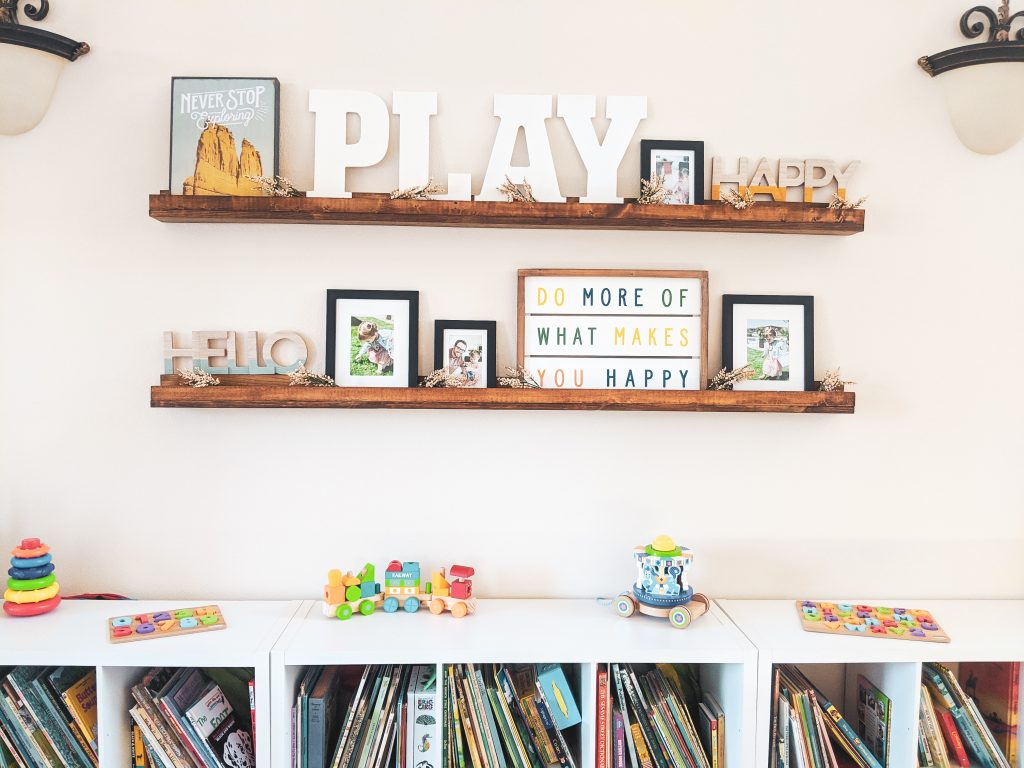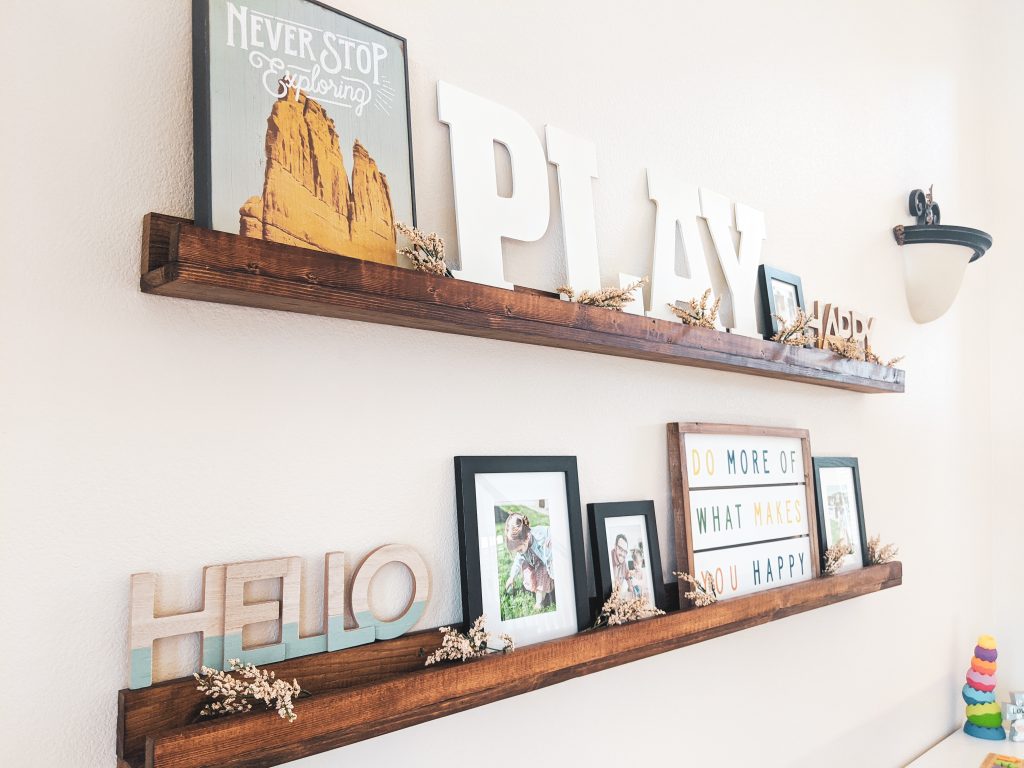 Below, you will find the links to the items above and/or comparable items on Amazon if I was not able to find it on their website:
Good news, bad news. The signs I bought were in the dollar section at the front of the store for only $3! Unfortunately, I cannot find them on their website. However, I found some similar ones that I linked above. Sorry, guys!
13″ White Wood Letters ($5.49) – Michaels
One of the most important thing I wanted for her wall decor was a "PLAY" sign. I love these letters that I found at Michaels because they are lightweight and simple!
Assorted Flower Bush ($1.19) – Michaels
While I wasn't able to find the same ones I purchased, these are very similar AND cheaper!
Do More of What Makes You Happy Sign ($10.49) – Michaels
I love this sign and it's on sale! Grab it while its still available!
Never Stop Exploring Sign ($5.99) – Michaels
Again, super cute sign and you can't beat the price!
Black Belmont Frame (Varies) – Michaels
I bought two 8×10 and two 5×7 frames for the shelves. I ordered some photos from Walgreens and it gave the wall a personalized touch!
I hope you enjoyed this quick post on our playroom decor – feel free to share your ideas and thoughts in the comments below!
---
This post contains affiliate links. If you purchase through those links I may earn a small commission – but it won't' cost you an extra penny!