When I decorated Ava's nursery over two years ago, one of my favorite decor items was a simple pegboard that I added above her changing station to hold diapers, wipes, lotion, and other useful baby products. I snagged the idea from Pinterest and absolutely plan on doing this again when we decide to have a second. Now that Ava is older and her changing station is used less frequently, I decided to repurpose the old pegboard into a coloring station.
Here's how the pegboard looked when it was in her nursery: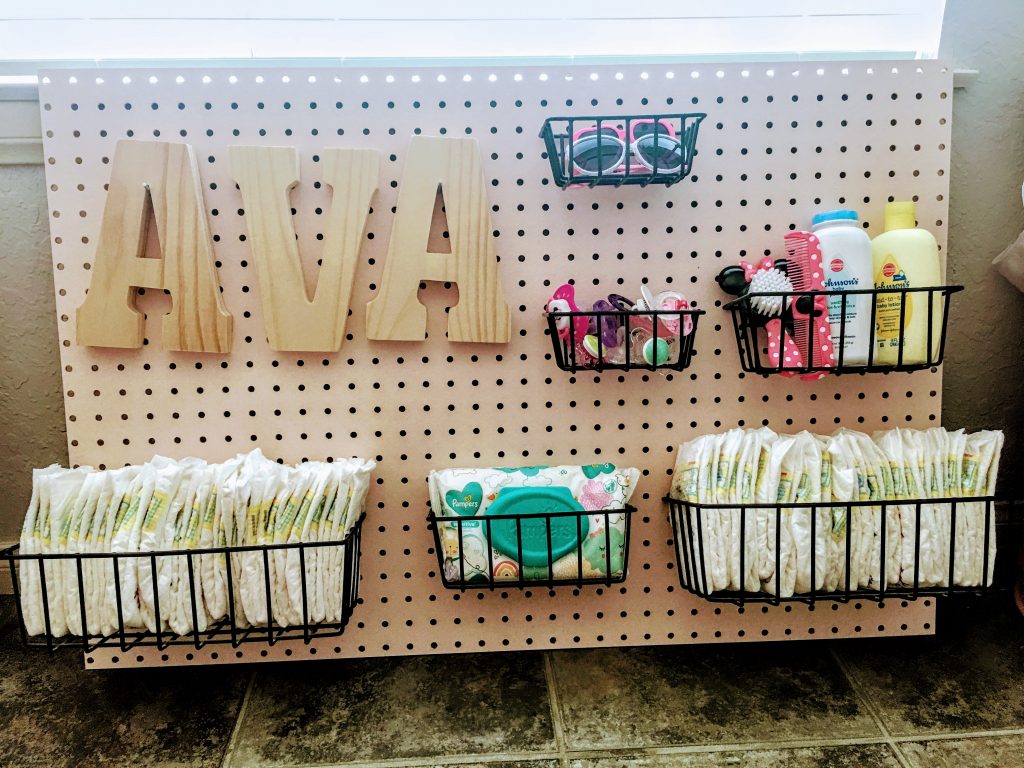 The pegboard had a lot of damage on the front side when I took it off her wall and moved it to the new house. However, I simply flipped it to the other side and repainted it for a fresh look. In addition to this, I also added some new baskets with mason jars to hold her coloring supplies. Finally, I added a couple of clips to the top of the board to hold some of her art.
Here's a look at the final product: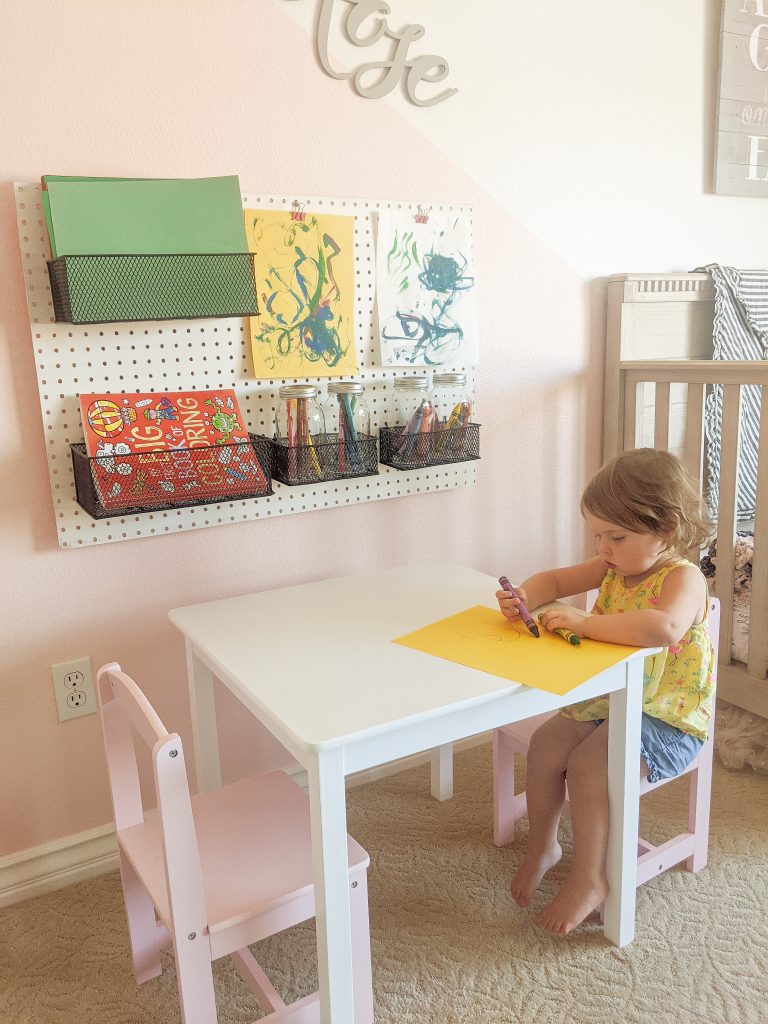 Honestly, this is probably the simplest (and cheapest) DIY project that you could add to any room in your house. For us, it's worked in a nursery, little girl bedroom and, of course, our garage! If you're interested in putting this together, here is a link to the supplies used and/or similar items if I were not able to find it online:
I purchased the pegboard from Home Depot and it was already precut to a 48″ by 24″ rectangle. I asked them to cut off one foot to make it a 36″ by 24″  rectangle. In Ava's nursery, I used the smaller board to hold her ribbons and bows. The quality of this board is fantastic and has lasted us through a couple of stages of Ava's life already!
These mason jars are fantastic and come in a pack of 12! They are so affordable that I actually asked one of the employees if it was the real price. I used four of them in Ava's playroom, four of them for another project and still had enough to give four to a family member for their project.
Pegboard Baskets at Home Depot OR Amazon
So, I have linked two items here in case you want a couple of options for pegboard baskets. The ones I purchased for Ava's coloring station was from Home Depot. I purchased two packs which gave me four baskets in total. I've also linked an option from Amazon that has several basket sizes if you are looking for more variety.
I'm super happy with how this pegboard coloring station turned out and Ava absolutely loves it! Feel free to share in the comments below how you have used pegboards in your house!
---
This post contains affiliate links. If you purchase through those links I may earn a small commission – but it won't' cost you an extra penny!