It's hard to believe we moved into our house almost a year ago! One room that has been an area of great frustration is our half-bathroom that is on the first floor of our home. It is the strangest half-bath ever because it has 7 walls which means so many angles! I've been staring at this bathroom for nearly year and finally got the courage to remodel it. Overall, I would say that this remodel cost us less than $500 and we completely removed everything except for toilet. While the $500 may still seem a bit steep, I think you will see how quickly the items can add up when you are taking everything out.
If you have a half-bath that is driving you crazy…then check out this remodel!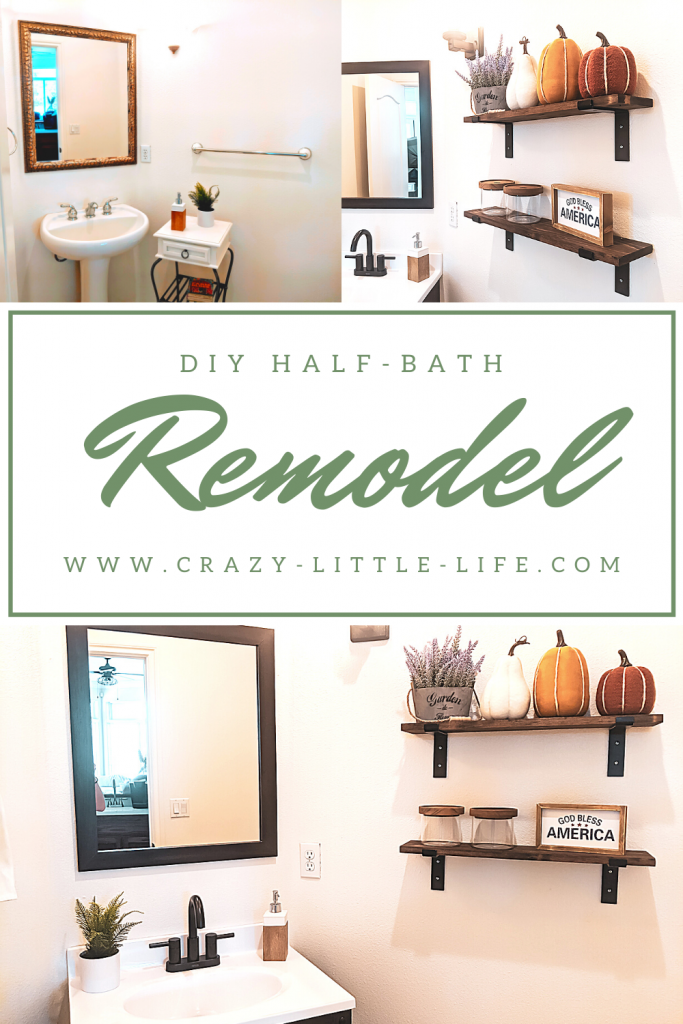 ---
THE INFAMOUS BEFORE PICTURE
Yikes – not so good, right?? First of all, I'm not a big fan of pedestal sinks. Second, nothing in the bathroom matched. Third, the walls were so empty! For lack of a better word, the bathroom was just "blah".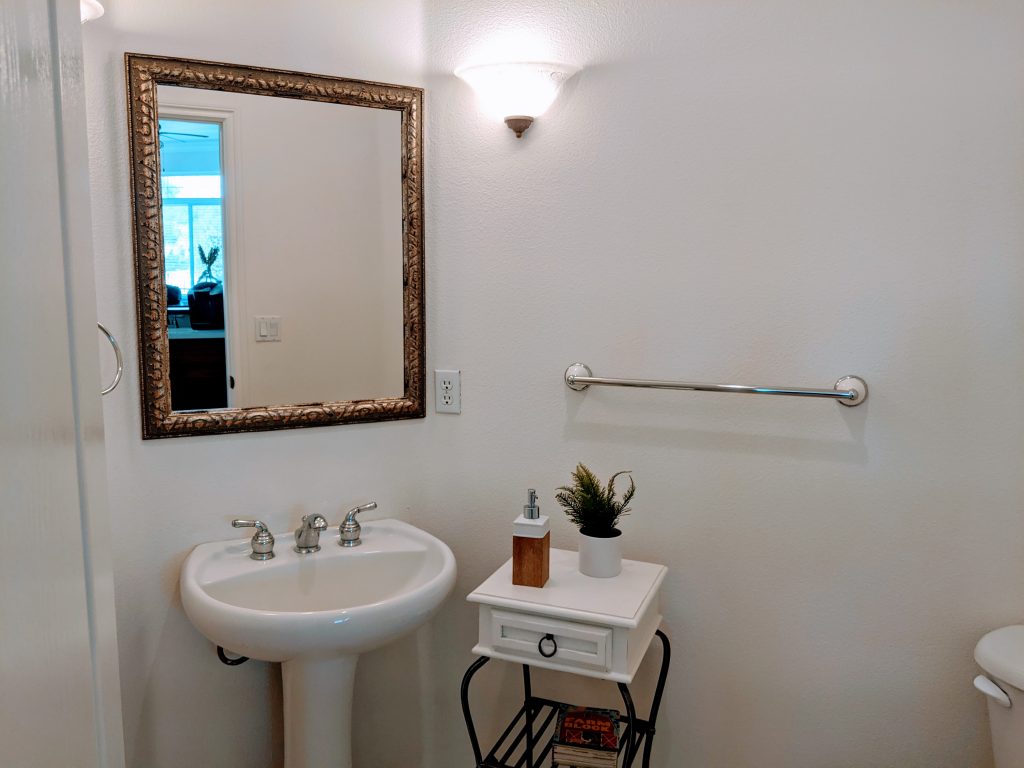 THE MUCH BETTER AFTER PICTURES
First Step: New Vanity, Mirror & Fixtures!
The first thing we did was gut the entire bathroom, except for the toilet. After this, we installed a new vanity, mirror, light fixtures, toilet roll holder, and hand towel. (Don't worry – I'll list ALL of the things we bought in the "links" section below!)
The vanity is from Lowe's and has a super cute farmhouse look to it. Bonus: It came with the mirror, too! We upgraded all of our fixtures to matte black and bought some farmhouse vanity lights, too!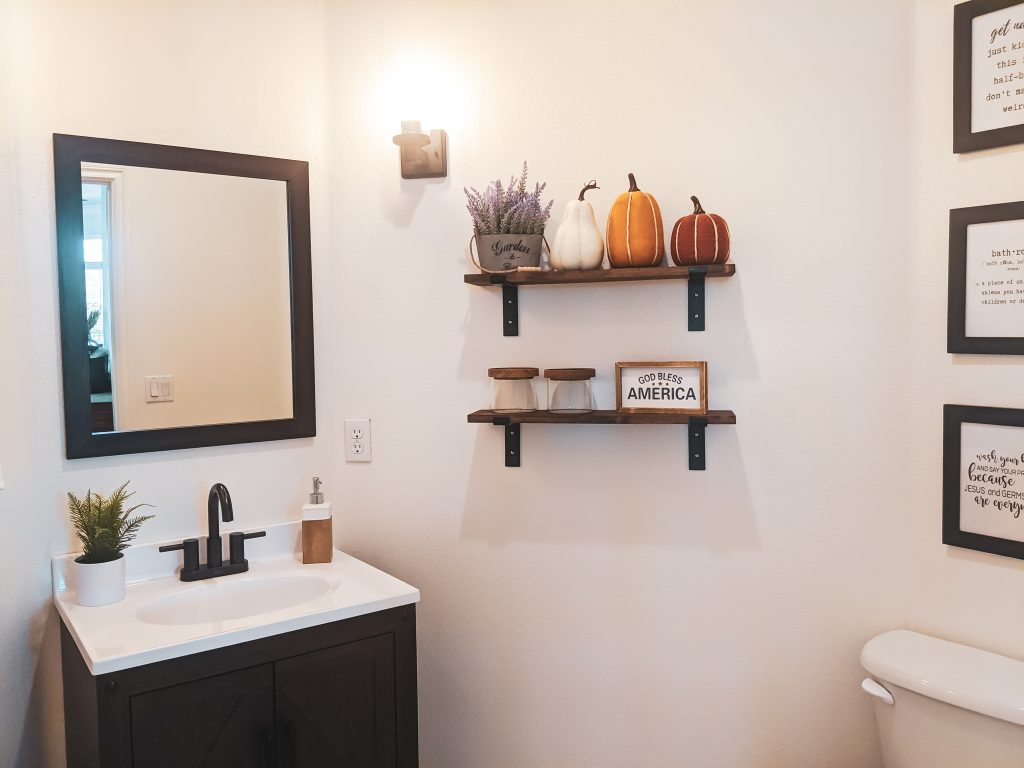 Second Step: Floating Shelves
Next, I built some DIY floating shelves for the bathroom! These came out SO good and only cost about $50 to make them.
To make these shelves, you just need to purchase some j-brackets (but l-brackets would work, too) and some wood. I used pine wood and stained it with Early American stain.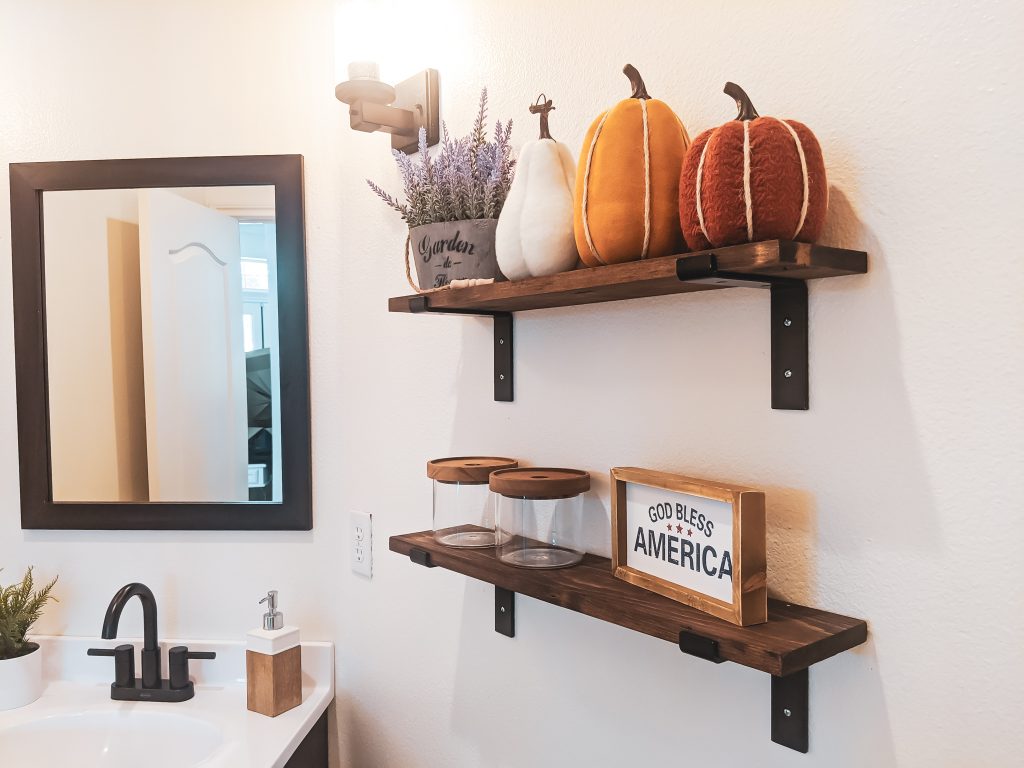 Third Step: Wall Decor
One of my favorite parts of the bathroom are these cute signs that I added above the toilet! I found these online for FREE – woohoo! All you have to do is print them out and add them to a 8×10 frame with a little bit of trimming.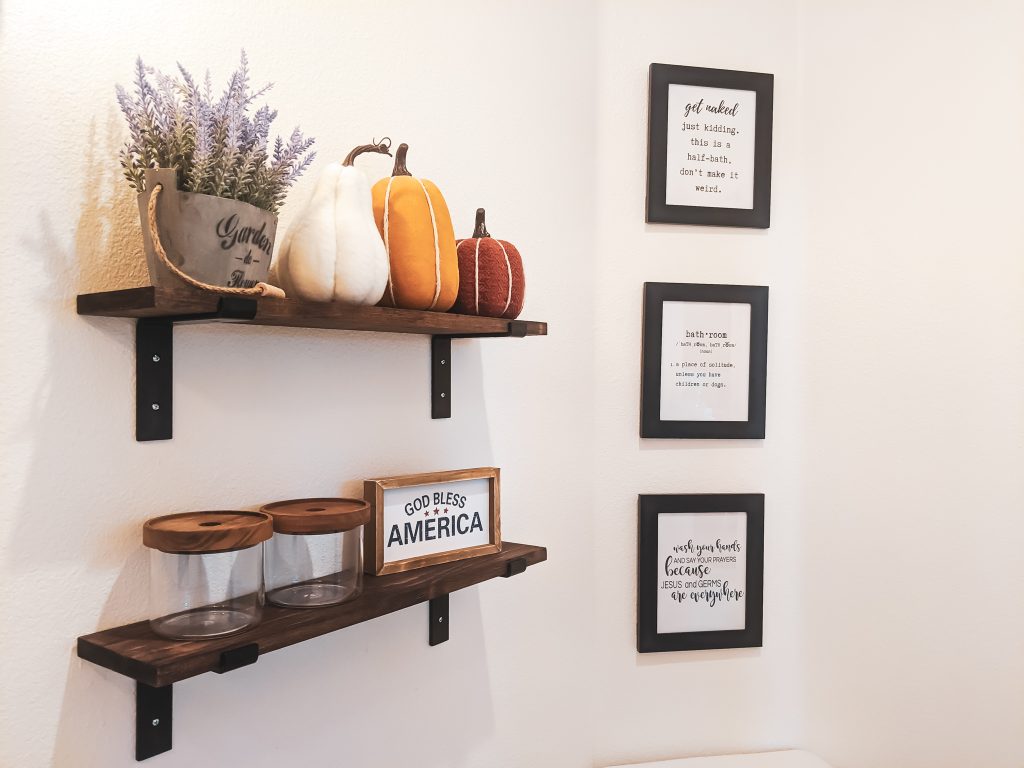 As you can see, it was actually a very simple remodel and it only took us one day to complete!
---
LINKS
The majority of our purchases came from Lowes and Home Depot, however, I will add comparable items from Amazon, too!
Vanity:
Hardware & Fixtures:
Shelves:
Decor:
Bathroom Humor Signs:
---
If you have any questions and/or comments, feel free to drop them below!