Guys. I gotta say – the toddler years have hit fast and furious with our daughter.  Her fiesty personality has only magnified as she continues to explore and discover the world around her. From toddler beds, to potty training and leaving her beloved bottles behind – it's enough to make any kid a little crazy from time to time!
In this post, I'm excited to share a few of our favorite toddler finds from Amazon. These items have been incredibly useful through some of Ava's life changes. They've also made our life a little easier in the process too!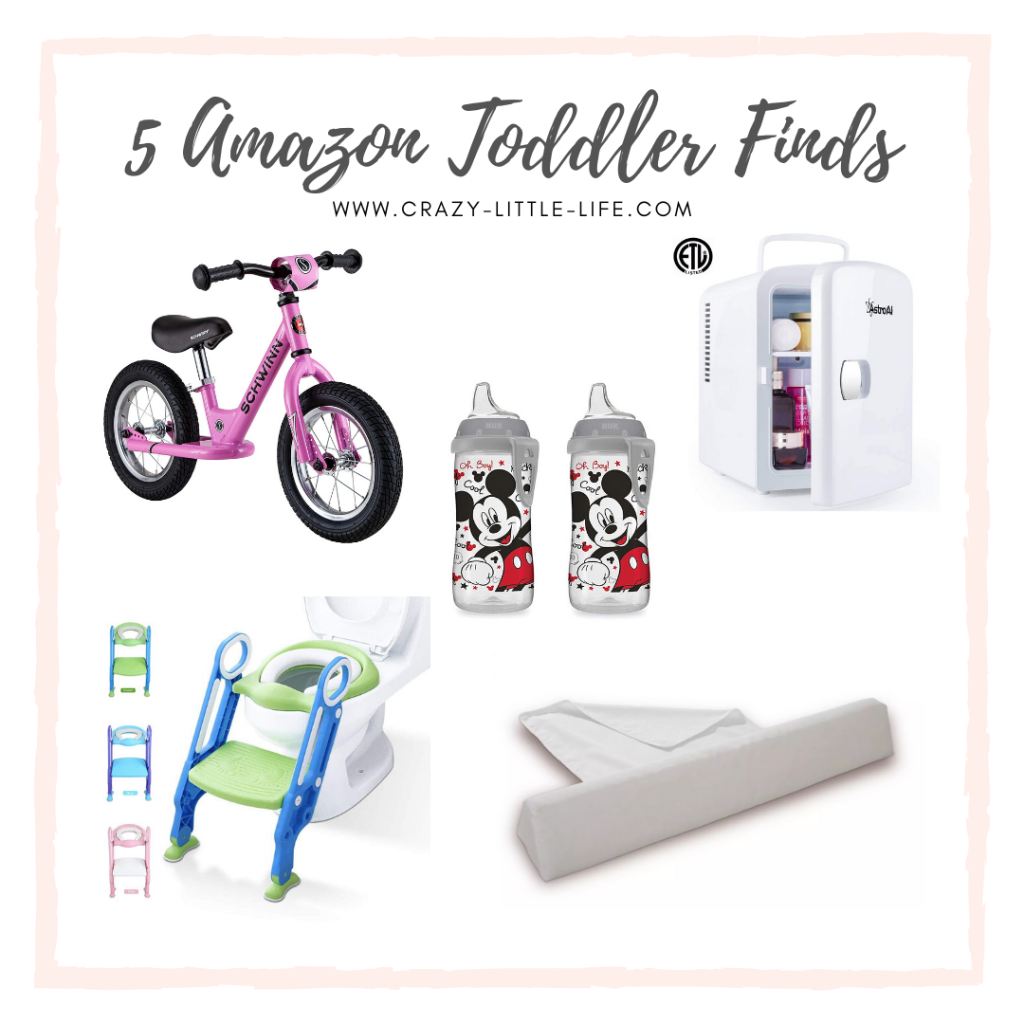 AstroAI Mini Fridge – Amazon
Alright, this may seem like the silliest thing on this list. Yet, it's my absolute favorite purchase since our daughter hit the toddler years.
We moved Ava to a toddler bed at 16 months. Yep – that early. She was already turning into quite the climber and, honestly, I really wanted to redecorate and change up her room. That being said, it meant that she could easily get out of her bed in the morning and come find us. When she comes to our room in the morning (at 5:30 on the dot), she always wants her milk. So, we would go downstairs, get her Nuk, pour the milk, bring it back up and give it to her.
Now? I do all of that the night before and put it in this little fridge that is in a cabinet in our room. Ava comes in, grabs her milk, climbs in bed with us and usually falls back asleep for another hour or two. It's amazing.
Ava's bed is a toddler bed which already has a rail – as you may have seen from the bedroom decor post I did a couple of weeks ago. However, our RV trailer does not have a rail and the lowest bunk is almost as tall as Ava. In the past, we have put Ava on the floor of her bunkroom but we needed to utilize that space for my husbands office last time we traveled.
So, I started looking into bed rails on Amazon but quickly realized that the classic bed rails that go under the mattress would not work for our trailer. The mattress on the bunks is very light and definitely wouldn't hold the weight of the rail. However, we found this amazing little bumper! I simply put it at the edge of the bunk, then put a twin sheet over it and it is perfectly held in place. The bottom of the bumper has some grip which really helps, too. In the mornings, Ava just climbs over it and drops to some cushions that we  put below.
Potty Training Seat with Stepstool
Potty training is rough. We started super strong during the start of COVID but then I threw out my back which brought our potty training to a near standstill. That being said, I still absolutely love this purchase. It is a two-in-one seat plus step stool and perfectly fits every toilet we have used it on. When it's not in use, it is slim and can lean up against the wall so that adults can continue to use the restroom as normal.
In addition to this, it has an adjustable height for the stepstool portion which is really beneficial since many toilets have different size bowls. For instance, I had the step at the lowest rung upstairs (it only fit that way) but, when we moved it downstairs, I was able to move it up to the highest rung to give Ava a better step onto it.
Okay, this one really isn't such a "handy" or "helpful" item but Ava absolutely adores it! Plus, I really do think it has helped with her balance!
It's cute, easy to put together, and very portable. Ava normally uses it in our backyard but we have used it on camping trips and it can easily fit in a closet of our camper. In addition to this, it has an adjustable seat which really allows it to grow with your toddler.

Nuk Sippy Cup
Last, but certainly not least, our the Nuk Sippy Cups! So, Ava is really good at using a cup. Most of the time, she uses her 360 cups, Thermoflask or we give her a regular cup as we use.  However, these cups aren't very leak-proof and we tend to use them in more controlled situations.
The Nuk sippy cups have been an amazing purchase for morning milk. We only use it for her milk but they are the best leak proof sippy cups I have ever found! She has chewed through the nipples on these several times and the replacement tops are super affordable. It's totally worth it for her morning milk when she climbs in bed with us because I really, really hate spilled milk in my bed!
---
This post contains affiliate links. If you purchase through those links I may earn a small commission – but it wont' cost you an extra penny!