The number of times I have redecorated and organized my daughter's room since we moved into our house seven months ago is, well, ridiculous. My husband keeps joking that he is surprised that she remembers where the door to the bedroom is if/when she wakes up in the middle of the night because the bed has moved locations at least 4 times. I'm not sure how other people style spaces in their house but my process tends to be like this: 1.) Look at the space, 2.) Add a c ouple items, 3.) Move those items, 4.) Look at the space again for another month or two, 5.) Look at Pinterest, 6.) Add a couple more ideas, and 7.) Repeat five million times. Seven months later,  I'm fairly happy with how my daughter's room has turned out!
Here's an example of what it looked like before: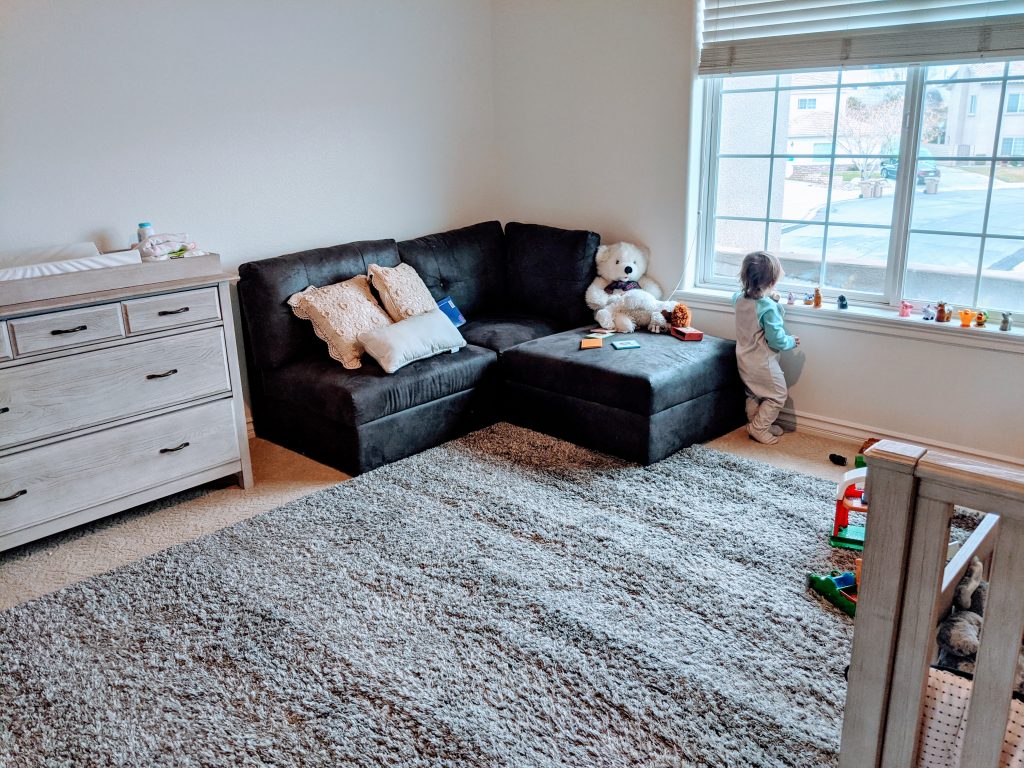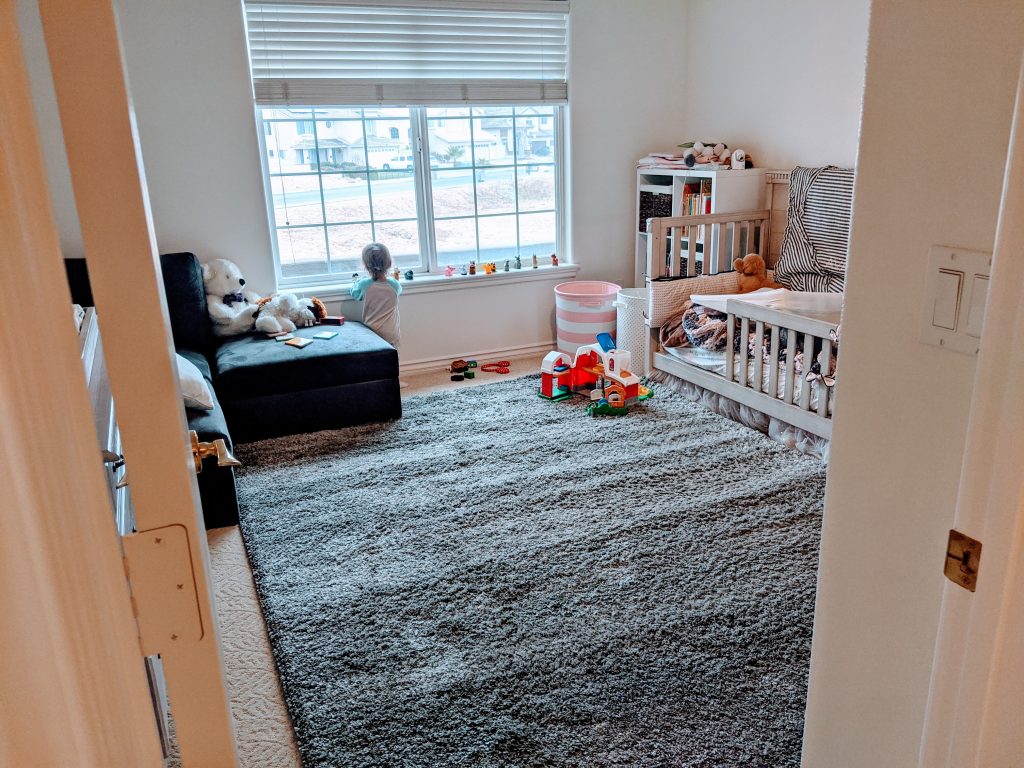 Her bedroom just didn't have the "pop" I was looking for – but Pinterest gave me a variety of ideas and Amazon + Target finished the rest! On Pinterest, I  fell in love with the idea of diagonal lines of paint that would add color to the room but not overpower it. I also added some polka dot decals to liven up the solid white wall that contained her window. By adding these pops of color, the gray shag rug went from overpowering to the perfect accent. As you may notice, I've also kept a lot of the floor space of her room open because she tends to play all over the floor. However, I've added usable space along the walls and storage in her closet. Finally, I pulled out the sectional in her room and added a tent – which she uses much more than the sectional!
Here's a few pictures of how her room currently looks:
All of these items we purchased over the last couple of years and we were very blessed to be gifted the crib and dresser from Pottery Barn. Quick note, most of the signs in her bedroom came from Hobby Lobby but I was unable to find them online. It's been a couple of years since they were purchased, so they might not be in stock anymore.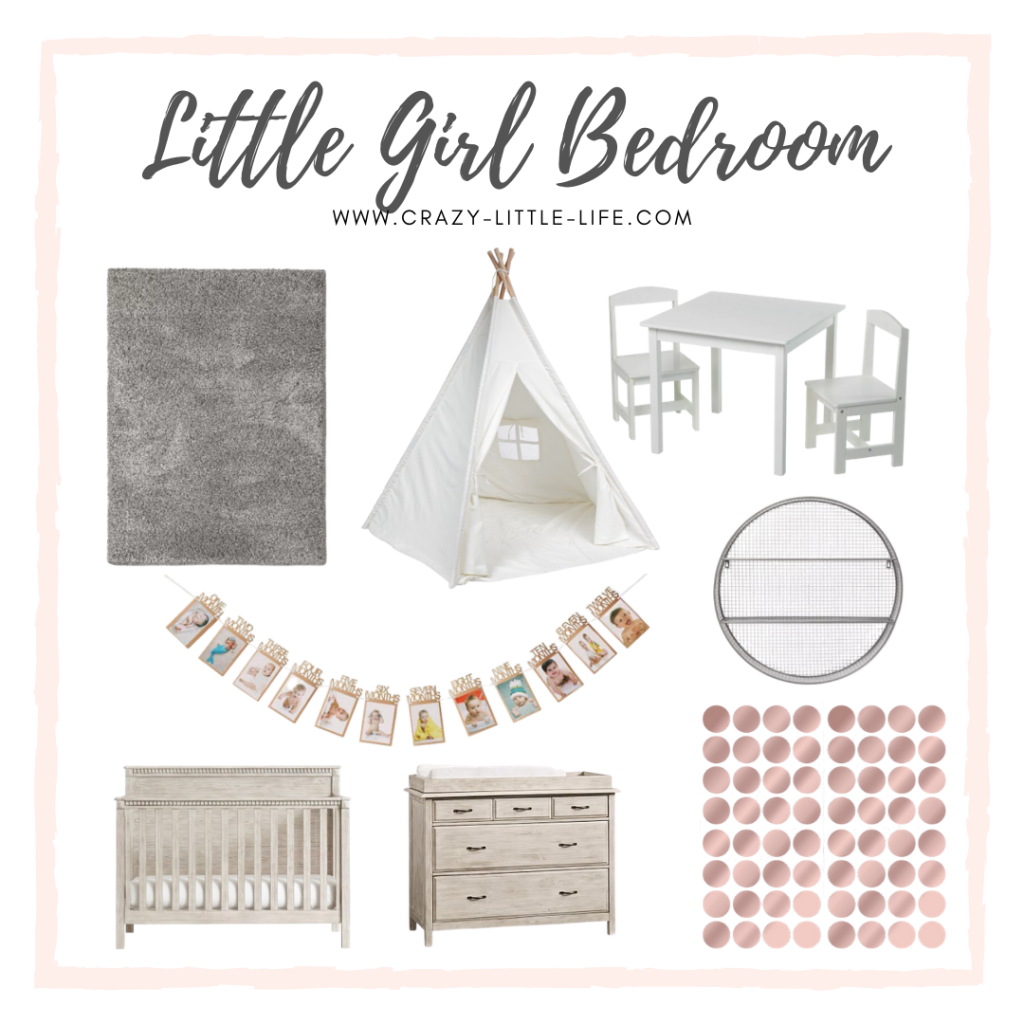 If you are interested in any of these items, here are the links to all the ones I could find:
Eyelash Woven Shag Rug (Prices Vary) – Target
This is absolutely one of the softest rugs we have ever purchased! We originally bought it for our old house because it was all tile – but it works perfect in her room, too!
Circle Shelf – Pillowfort ($34.99) – Target
Affordable, easy-to-install and comes in both gray and gold.
Pottery Barn Bed: Rory 4-in-1 Convertible Crib ($799)
Like I mentioned above, we were gifted all of her Pottery Barn furniture. However, I always can tell a difference between our Pottery Barn furniture and anything we may purchase elsewhere. The quality is simply amazing.
Pottery Barn: Rory Dresser & Topper Set ($1,119)
This dresser stores way more than you would ever expect!
Polka Dots ($14.24) – Amazon
These are so affordable and incredibly easy to add to the wall. I messed up a million times, too, and they were easy to peel off.
Kids Teepee Tent ($70.99) – Amazon
I've been eying the Teepee Tents for her room for months! We finally bought one for her room and she loves to play, read and sleep in it.
1st Birthday Photo Banner ($7.99) – Amazon
Originally, we bought this as decor for her 1st birthday party. However, it turned into great bedroom decor, too!
3pc Madeline Kids Table and Chairs Set Antique White ($78.99) – Target
Unfortunately, I can't find the original one we bought which was only  $49 but this one is super close. It's easy to put together, perfect for young kids and easy to clean.
---
This post contains affiliate links. If you purchase through those links I may earn a small commission – but it wont' cost you an extra penny!