Nearly two months ago, my husband and I welcomed our son, Oliver, into this crazy world! He has been such a blessing to us and his sister absolutely adores him. Well, at least most of the time and as long as he is not taking too much attention away from her. 🙂
As an A-type personality, I knew that I wanted his nursery to be done before he came home with us. Both of my kids have been in their own rooms from the first or second week. I know, cue the judgment from SO many people about that fact. However, we always noticed our kids slept better in their own rooms. With the Infant Optics Baby Monitor and the Owlet, we feel like they are in the room with us and we can easily track everything they are doing or anything they may need. Anyways, on to the fun part of this post!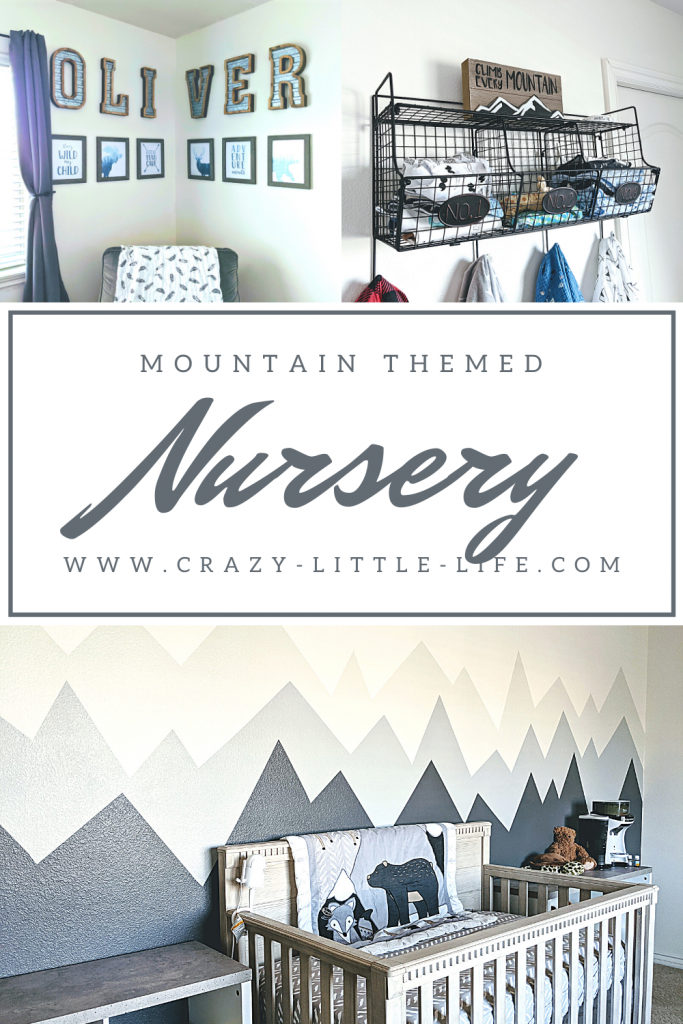 Oliver's nursery is a mountain theme inspired by numerous pictures I found on Pinterest. The focal point of the room is a mountain mural that I created using three types of paint and frog paint. The mural covers the largest part of his wall and is the backdrop to his crib and two sets of cube shelves. To see how the room turned out, click on the slideshow below:
Although it may look complicated to pain these mountains, it's actually very easy! All you have to do is this:
Using frog tape, create the first set of mountain lines.
Paint over the lines with the current color of your wall.
Once it is dry, paint over the lines and current color with the new paint color.
Repeat as many times as you need.
If you are a visual person, I have downloaded my Instagram stories from this project to show you a step-by-step of how to paint this mural:
If you are interested in creating your own Mountain Themed Nursery, you can find all of the supplies, materials, furniture, and decor that is used within this post through the links below.
Mountain Themed Nursery – Supplies, Furniture, Decor, and More!
The Paint
The Furniture
The Decor
Other Items
As always, if you have any questions or comments, feel free to drop them below!
---
This post contains affiliate links. If you purchase through those links I may earn a small commission – but it won't' cost you an extra penny!