I've had this idea to add a table to Ava's playroom since we moved into the house. Her playroom is located in what should be a dining room – but makes an excellent and visible playroom as it is visible in the kitchen and den. It's a fairly wide-open space with ceilings as tall as our two-story house. Along the walls, we've placed cube shelving that contains books and a number of baskets for storing toys. The only thing missing? A table, of course!
One thing I haven't shared is that I am really cautious on spending money. I've always been saver, so I research the best prices and best deals whenever I making a larger purchase. Even if it is just a playroom table. However, I had a better idea this time.
What if I found an old table on Facebook Marketplace or Offer Up and just refurbished it?
I looked and looked for the right table but didn't find anything that was catching my eye. I was hoping to find something with a more solid wood that would be more durable with children. Fortunately, I was able to acquire a free table from a house that my dad and his crew were emptying as a part of their "flipping house" business. The table is absolutely gorgeous and is solid wood. It's not very tall, probably less than 18 inches, which makes it a perfect height for littles.
So, I decided to restore this table with a simple five-step process that actually took me less than a few hours of work! Below you will find these five steps detailed, but here is a sneak peek at the before/after of the project: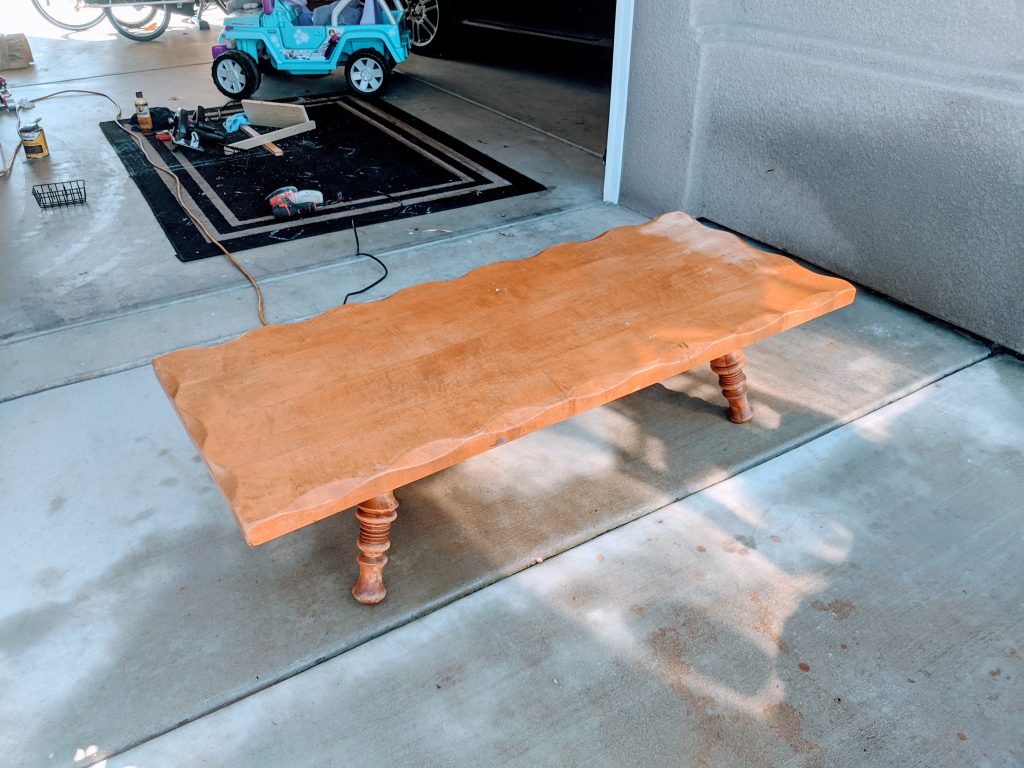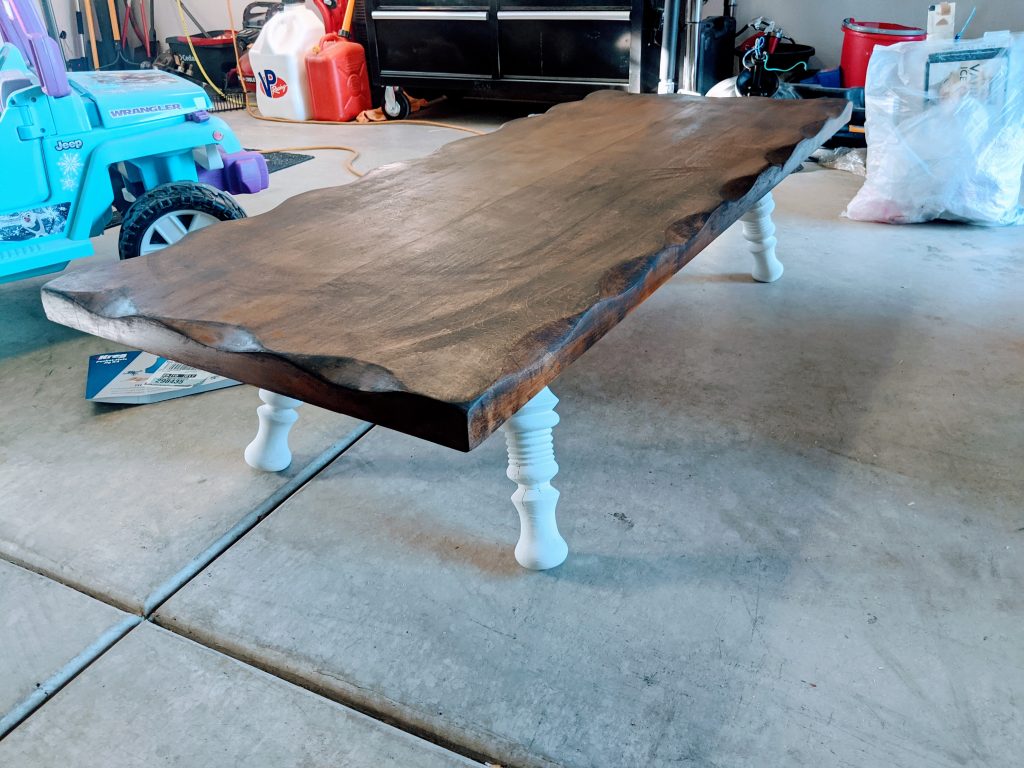 Step #1: Sand
Sanding is probably one of my least favorite parts of working on wood – but it is so necessary! As you can see from the first photo, the original stain was very orange. After I finished sanding, I was able to find that the wood underneath was much lighter and not as orange. I was also able to find the original wood pattern in the wood, too! Unfortunately, there were some strange streaks leftover that sanding could not remove. This may be due to the fact that it sat in a shed for 25+ years! Also, I only sanded the top of the table since I planned on using chalk paint on the legs of the table which does not require any sanding.
I started sanding with 80 grit (heavy) sandpaper to really get the original finish off the top of the table. After most of it has been worn off, I moved onto 120 grit sandpaper and resanded the entire table. Finally, I moved onto 220 grit (very fine) sandpaper to get a nice smooth finish. As a reminder, the lower the grit the rougher the finish. While I hate sanding, taking these steps is so important to getting a nice, smooth table at the end of your project.
Step #2: Clean
After I finished sanding, the table was obviously very dirty and dusty. An air compressor is great for getting dust off, although I didn't use that this time. To clean the top, I simply took a rag and some liquid paint thinner to clean the top of the table before staining.
Sunnyside Paint Thinner ($8.99) – Amazon
After the table had dried, I stained it with Varathane's "Dark Walnut". Pro-tip: Don't forget to shake the can! I applied three coats of stain to the top of the table. It's important to remember to wipe off the excess stain after applying each layer of stain. In addition to this, make sure that the stain has dried before applying each coat and always apply with the grain.
Varathane's Dark Walnut Wood Stain ($14.18) – Amazon
Step#4: Paint
Confession: I had never used chalk paint until yesterday. Now, I'm totally a convert! The chalk stain applied so smoothly and evenly to the legs. It also dried incredibly quick! I applied two coats of the chalk paint to the legs and it definitely made the table pop and blend with the furniture in Ava's playroom.
Rust-Oleum Chalk Paint Linen White ($18.99) – Amazon
Sometimes I finish projects with polyurethane – sometimes I don't. In this case, I felt like the wood looked and felt exactly how I wanted it. However, I have found a lot of success with finishing my wood projects with Howard's Feed-n-Wax. I swear it is like giving your wood a drink of water and totally polishes and conditions it! I added one coat to the wood, wiped of the excess and let dry over night.
Howard's Feed-n-Wax ($14.82) – Amazon
Just for fun, here is a peek at how the table looks in the playroom: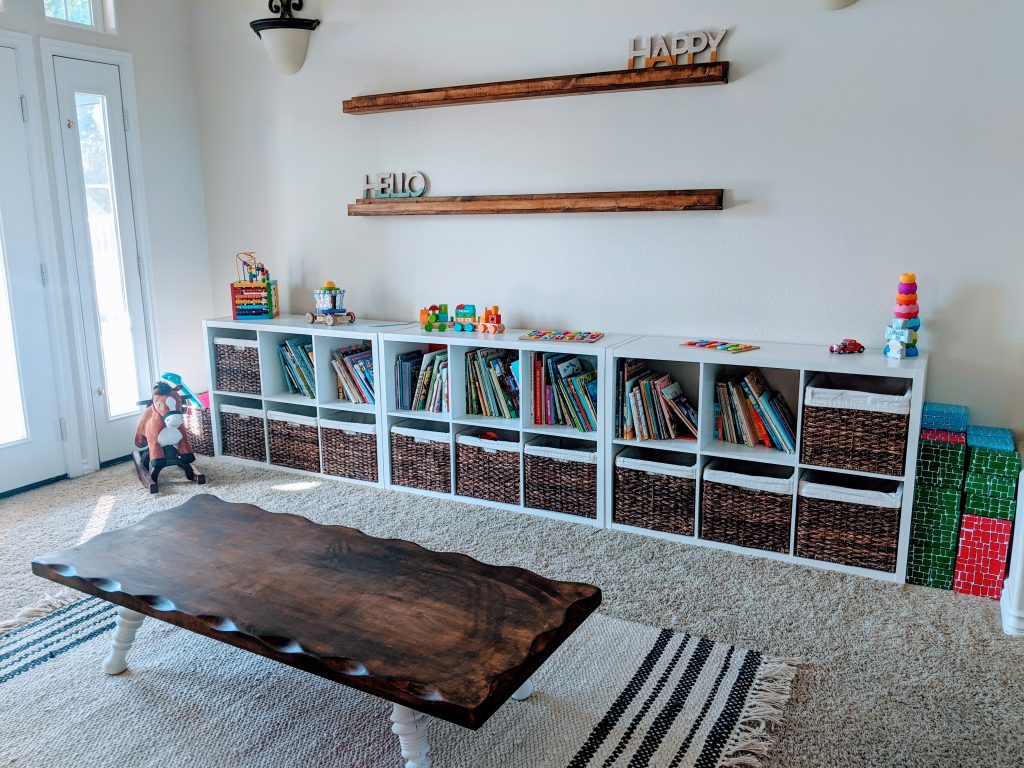 As you can see, it's a very simple and affordable process to refurbish a table! The steps above could absolutely be used for projects beyond coffee tables. In fact, it's the same process that I used for our dining table in our breakfast nook.
---
This post contains affiliate links. If you purchase through those links I may earn a small commission – but it wont' cost you an extra penny!